Click here!
---
JagDragon's Dragon friends
---
You are the th person that has visited this site.
---
You see three dragons in a room. Two are floating in the air, and one is hatching. A multicolored dragon says, "Hello, stranger. My name is Buffy. These are my friends Samuel and Marcus. Samuel is the big, gold one, and Marcus is just hatching. We eat the knights that come around trying to slay JagDragon. JagDragon adopted us, and we have been happy and have had full bellies ever since. A good way to help is to adopt your own dragon here."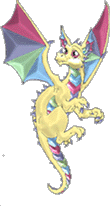 ---
Sign My Guestbook
View My Guestbook
---
This page hosted by
Get your own Free Home Page